Are you an ambitious but private introvert?
Are you passionate about helping others and making an impact?
If so, then we might just be twins. 🙂
And maybe you're like I once was:
"Just" create a 30 minute compelling Facebook Live that sells… when you don't like selfies. Post 16 times a day on Twitter… when you hate the idea of adding to the noise.
Not going to happen. And if it does, you need, like, a a 5-hour nap after.
You want a pajama-friendly business that honors your introversion.
Introverts CAN have a fun and successful businesses. Like Marie Forleo, who runs an 8-figure business, and Pat Flynn, who has the very popular Smart Passive Income brand. But sometimes we need help from someone who understands, and who can help us get out of our own way.
With our 60-minute Clarity & Action Audit call we take a deep dive into your business, and your inner thoughts, to provide you with clarity on how to turn your business into one that's visible, impactful, and fun.
What: Clarity & Action Audit
Duration: 60 minutes plus a 10 minute check-in a week later (because I always have questions later)
Cost: $97 USD
You Get: Serious clarity, and an action plan. PLUS a personalized 5-page PDF with notes from our call and links to resources to take your business to the next level.
What It's Like: We do either a voice or video call (your choice) using a program called Zoom (it's like Skype, but more reliable). You may have a set list of things to talk about, in which case we start with that list. Or if you're stuck but don't know what kind of help you need, we start with your pre-filled questionnaire. Either way, you get personalized help to get unstuck!
Next Steps: Use the button below to book your Clarity & Action Audit! Then, you'll choose a time for our call and fill out the pre-session questionnaire.
What past clients have said after I checked back a few months later: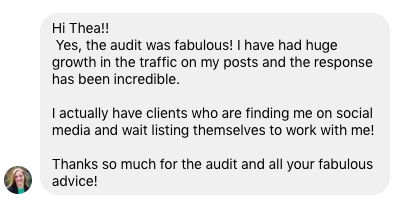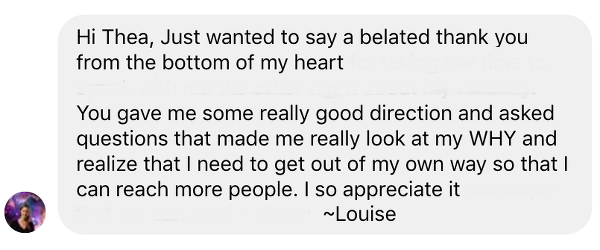 If you need help with:
❇ Getting out of your own way
❇ A simple action plan for what to do next
❇ Creating a social media strategy
❇ Overcoming mind-drama like fear of promoting and being seen online
I'm a hard-core introvert, and for most of my life I let my inner fears stand in my way.
Back when I was 10 my best friend opened up a lemonade stand one summer afternoon. I wanted nothing to do with it. I was too afraid of bothering the people walking past. AND WHAT IF THEY HATED THE LEMONADE!!
I wish I could tell Baby Introvert Thea that you CAN help people without feeling like you're bothering them and without being afraid of adding to the noise.
I now use my coaching skills (I'm a trained life coach), my knowledge of storytelling (I majored in Media Studies in college), and my marketing background (I've used social media for business for a decade) to transform introverted business owners from feeling like their business is stressful to confidently growing their business in ways that feel light and authentic.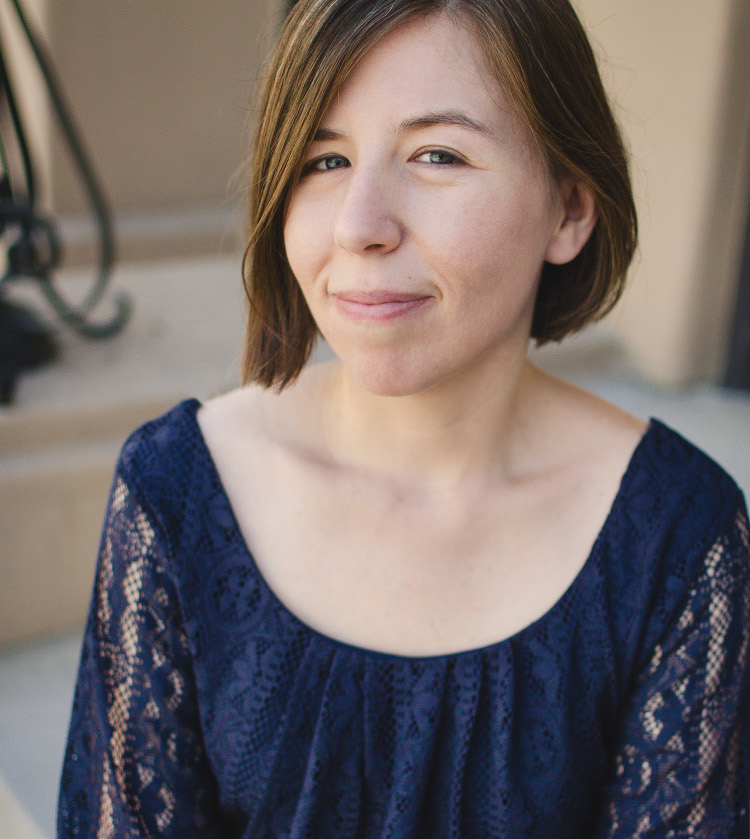 Book your audit, or let's chat or email about ongoing accountability and support.
You don't have to do things the way everyone else does it, and you can be daring enough to create success your way. I'd be honored to help.
*While results may vary, I'm confident I can help you too. Not happy with the result of our call? Then I'm not either. I'll give your money back.