Visibility Clarity Session
You CAN use social media to get customers without feeling fake or pushy
You want a business that's fun, inspiring, and feels easy. But when it comes to online marketing it just feels like you're shouting into the void.
Plus, social media marketing feels overwhelming and fake. A total energy drain. You're starting to wonder if this being visible on social media thing isn't meant for introverts.
I get it.
I'm a major introvert. While I've been using social media for business for a decade now (since MySpace), it's something I really struggled with at first. But social media marketing is something we can not only get ok at, it's something we can excel in. And I can help you make that transition sooner rather than later.
Are you constantly asking yourself these questions?
–What should I post?
–What if I make a fool of myself?
–Am I bothering people?
–I want to make an impact and help people. But how?
During a Visibility Clarity Session you get clarity, direction, and an action plan when it comes to marketing your business. So you're not trying to promote like an extrovert, and you're not just marketing your business online the introvert way, but you're marketing your way, with a lot more confidence.
Why else are these 60 minute visibility sessions awesome? I've saved my clients thousands of dollars because they were about to start some shiny-object project or take an expensive course. So my Visibility Clarity Sessions can literally pay for themselves.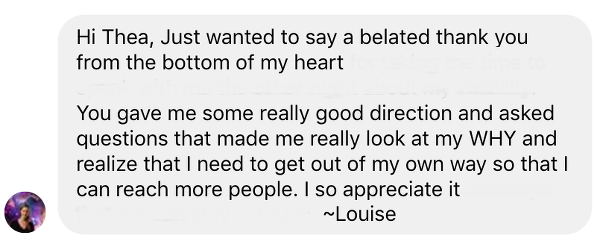 Here's what's included:
–A pre-coaching questionnaire to help you articulate the biggest issues you're having with your business.
–One 60 minute one-to-one session with me, none of this cookie-cutter marketing advice from online courses, instead you're getting personalized advice and the ability to ask me questions.
–Notes taken during our session, so you don't have to frantically jot things down.
–A PDF copy of the action plan that we create together during the session, so you know exactly what to do next.
Investment:
$97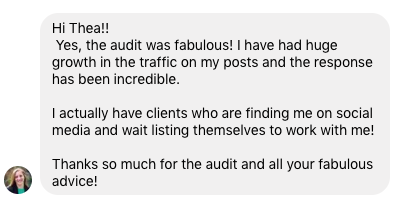 Want in? Here's what to do next:
Yesss! Let's get your business found online.
Click below to purchase with Paypal (credit cards accepted), then you'll automatically be sent to my calendar to book our Visibility Clarity Session!
Visibility Clarity Sessions take place on a platform called Zoom (free for you to use), which allows you to see my notes as I type them.
I do offer ongoing support for my fellow introverts, but I like to do single sessions first to make sure we work well together.
Can't wait to help your business thrive!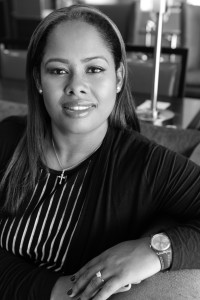 Thea helped me see more clearly what was holding me back from really putting myself out there. I was having lots of trouble communicating my message with the world. She followed up to hold me accountable and that was just what I needed. Thanks Thea! – Nicole Wvde
Are you thinking you'll want to work with me for more than one session?
Click here to book a complimentary 30 minute chat with me, so we can discuss if we're a good fit to work together: http://calendly.com/theacoaching/discovery-session/